A picture can paint a thousand words. It is important that an image within p2 paints the words the presenter intends the audience to hear. A single image may have multiple meanings. It is essential to consider other possibilities may exist. Make sure the message received is the message sent by the picture.
A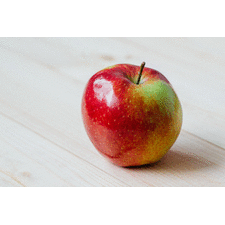 n obvious example would be an apple. Just an apple. What else could it possibly mean? It could it be the temptation of the fruit from the tree of life? Or the fruit that encouraged Isaac Newton to consider gravity? Or the record company formed by The Beatles? Once it has a leaf attached it may become rainbow coloured and then grey…in the mind of the audience. Or  is it just a random piece of fruit? Everything has meaning and clearly context of the p1 and the nature of the p2 will affect this meaning but beware the possibilities for an alternative or confused message.
Unfortunately, when searching, it is possible to discover images and unknowingly use them out
of context. A cinematographic motif may work appear effective for a presentation but leave confusion or upset. The little girl's jacket is the only thing of colour within this scene. A striking example of perhaps individuality, of uniqueness, or even beauty? The brutal imagery the film's producer intended when he shot the scene may be not what the presenter intended in choosing that image.
The value of images in a presentation, rather than text, is clear. One must recognise that meaning is in the eye of the beholder. Implications may be drawn that are different from those intended, even within the context of a presentation. As with words, chose images carefully.