Every good presenter carries a grab bag stocked with (nearly) everything they will need to deliver a great presentation. The reasons for this become apparent if you give more than one presentation.
Of course, there is no perfect list of contents in a grab bag but, over time, I have come to value having this lot. I'll work thru' them and explain what's what. There are links to various sites I've purchased them from. (no conflict of interest altho' would love sponsorship!)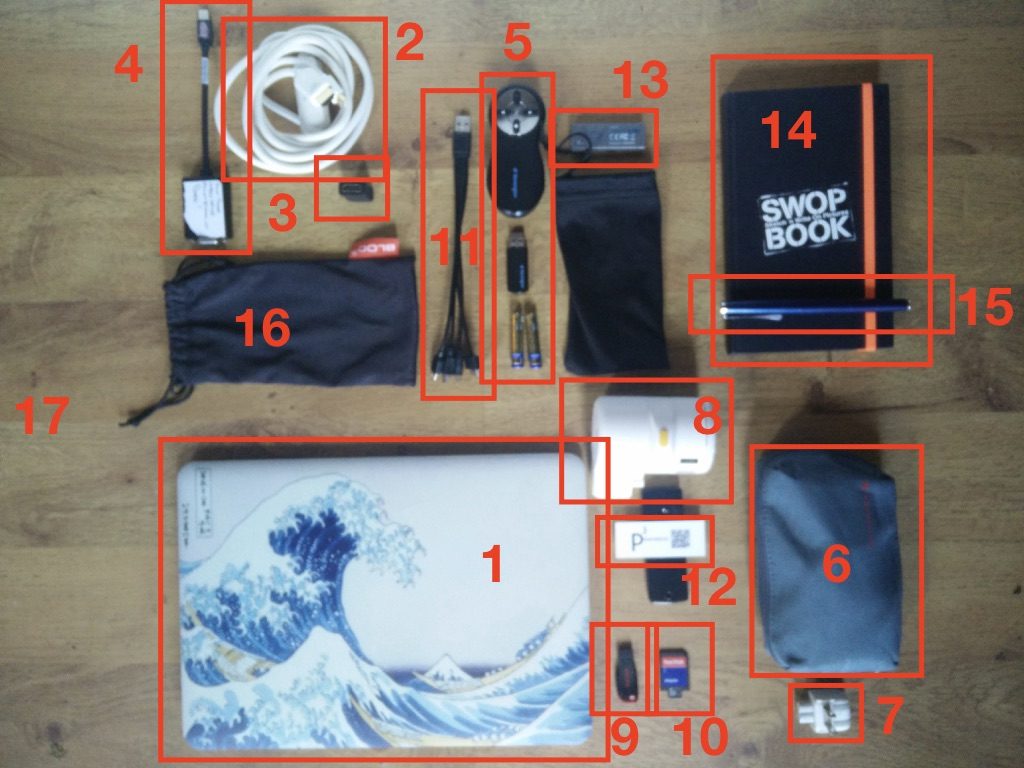 1. Laptop of choice. Currently MacBook Air Pro with (Great Wave of Kanagawa cover)
You need to connect YOUR laptop to display systems. I have listed the appropriate Mac Thunderbolt extensions for MY laptop. Buy your own. This is essential.
3. HDMI female to female coupler (useful if plugging into wall socket rather than directly to projector/computer)
4. Thunderbolt to VGA (named. these things are precious.)
5. Kensington bluetooth remote control (and spare batteries) (Read here why you NEED one)
6. Power source for laptop (always plug yours in on stage. trust me)
7. Standard power source converter for US/Canada
8. Twistplus international adaptor, MacPower AND USB power hub (wonderful gift from Ken Milne)
9. usb 1 with spare copy of presentation
10. SD card usb with another copy of presentation
11. USB to anything power/data cable
12. Moo mini business cards (compulsory in Japan but actually very useful at the end of presentation)
13. bootable OS usb (in at unlucky 13. seriously, 1 hour before big presentation Macbook wants to update. Noooooo!)
14. Notebook (where the ideas take shape)
15. Nice pen. (the best ideas come from the nicest pens)
16. sunglasses bag for holding cables, usbs, 'n' stuff.
17. What have I missed out from YOUR bag?
My grab bag itself is Everyday Sling (10L) from Peak Design that fits all that lot comfortably plus more. Protects everything and is very comfortable. Ready to go and give my next presentation…