Data slides must be easily interpreted, memorable and clear. They will support the message, not distract, cannot be taken directly from a scientific document and are best if their theme, font colour fit with the other slides in the presentation.This is good design. It strongly influences audience engagement, interpretation and retention of the message. Good data slides are essential. They are not about providing a massive data download but a message. The data is in the scientific paper.
This blog is not a discourse on design principles and one need not wear roll neck shirts, drink organic Guatemalan espresso and use only Mac products to design a great p2. Application of simple design principles to illustrate a message will significantly improve a presentation.
Continuing to use the presentation on Crash-2 and this delivery
"This slide showing the relative age bands in the trial comparing the study and the placebo group. You can see that for each age band the numbers are very similar, under 25, 2783 received tranexamic acid and 2855 were in the control group, 3012 aged between 25-34 received the drug and were compared to 3081 in the control. There was no statistical difference between these age bands or in fact any age band."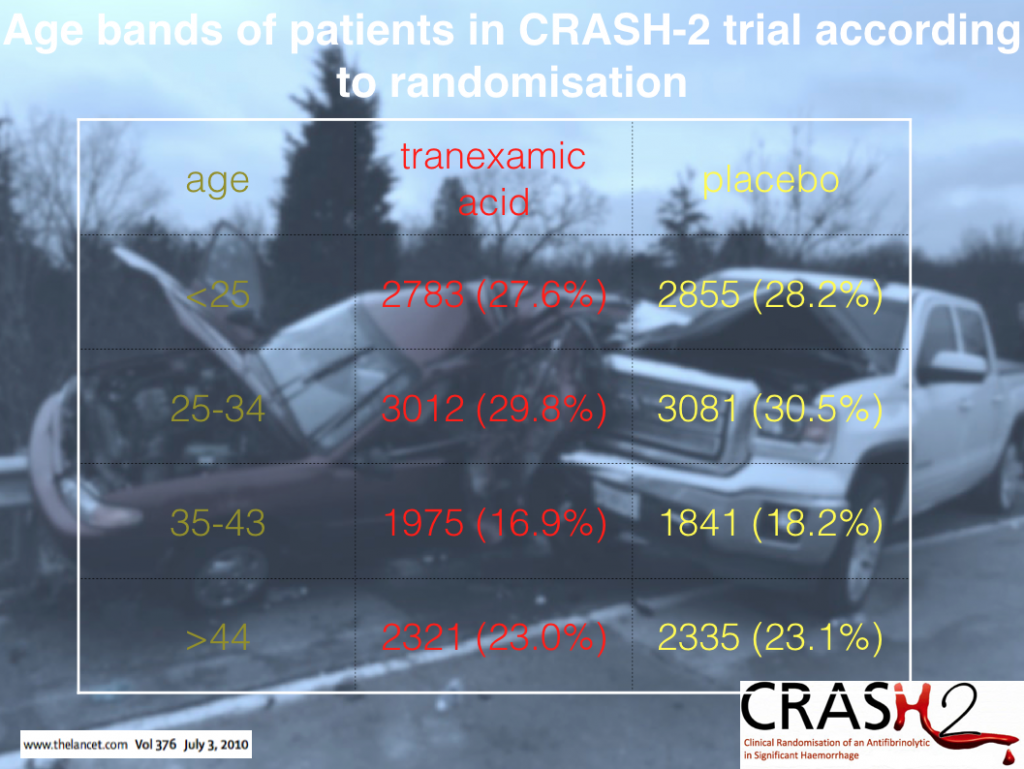 This might be improved by application of some of the following principles:
Simple design principles can significantly improve data slides. Ensure that a slide has a single message and deliver that clearly. The message will then be retained. The audience will never remember the individual numbers in the different arms of the study groups, but you know the import of the statistical difference between the two groups. That's how to deliver data.