This latest podcast is in response to a comment from twitter. What to do when things go wrong?
@ffolliet listening to ur latest podcast now. One topic to consider :how to survive technical failures I.e slides

— Minh Le Cong (@ketaminh) December 27, 2016
My best advice is as follows: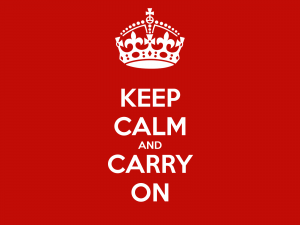 In the podcast I run through some of the problems that might occur in p1, p2 and p3 and what to do. Basically, it is summed up in the phrase, "Keep calm and carry on." This is not a blithe, throwaway comment but encourages the presenter to consider that the audience are not marking your p3 against what you prepared. The presentation that is received is viewed only against itself, not potentials from the notebook of the presenter. Mistakes in the head of the presenter should remain there: the audience are highly unlikely to even be aware of them. So, keep calm and carry on.
The presentation I reference at SMACC can be viewed here: http://www.smacc.net.au/2016/12/things-that-scare-me/  Rather than detract from the podcast, I've covered the mistakes in this blogpost.
When things go wrong, keep calm and carry on.