It is always encouraging to hear how others have considered improving their #presentationskills and the results of their work. I'm grateful to Patrick Bafuma @EMinfocus who submitted this guest blog. It is insightful, encouraging and inspiring.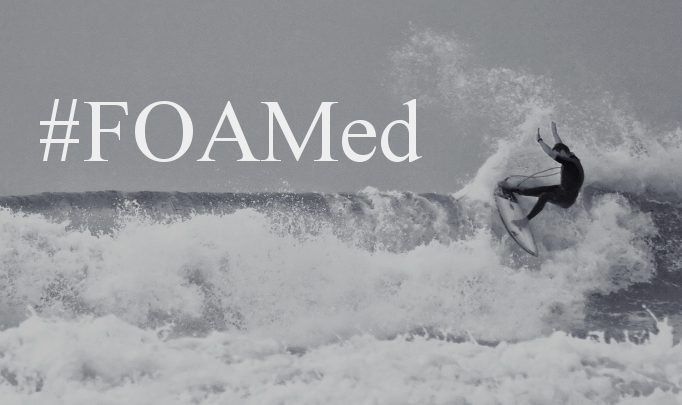 Making P3 stick
I am petrified of public speaking. I dislike my voice. I ramble. I mumble. When I get excited, I speak quickly. I also rabidly consume FOAM, and feel strongly about my profession becoming more engaged in social media.
Unstoppable force, meet immovable object.
After going to SMACCdub and seeing @ffolliet give "The Greatest Presentation in the World(tribute)" and obliterate every possible reason I could come up with to NOT get up on stage, I had to at least attempt to conquer my fear. Moving my profession forward meant more than whatever anxiety I could build up. Or so I thought.
I refused to let my dog listen to me practice, let alone my family or friends. I couldn't record and listen to myself because imposter syndrome had set in – and it was paralyzing. The week before my presentation, I had a handful of sleepless nights, and I now understood why patients would present to the emergency department for anxiety attacks. The palpitations were incredible, such that I actually checked my pulse more than a few times because I swore I was in SVT. Sadly, I continually apologizing as I was certain I was curt with my family during this time period as well. I cut my social media time down significantly and stopped checking for newly uploaded SMACC talks because of a sense of inadequacy.
Sparing the details of the talk, it went over well with the audience – in fact, several people came up to interact and ask questions including this message.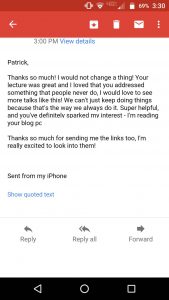 The feedback on the slide deck & delivery was quite positive. Most were surprised that this was my first talk. So while it was easy to make the switch to P3 since I did not really have a comparator, here are my thoughts on the process:
Putting down the laptop to brainstorm was incredibly hard – but one of the best choices I made. It is easy to get tunnel vision starting at a screen. Go someplace where your mind can wander – a park, a coffee shop with a view, any where. Bring a pen and paper an start your outline.
The curse of knowledge is real. I had to constantly read, reread, then hit myself with Made to Stick. (I highly recommend you read it, and augment it with ffolliet.com & speaknotably.net) I had to continually remind myself that at a conference with lectures from 8-5, attendees probably "get full" of information rather quickly. Your job is not to bore the audience with an overwhelming amount of information – rather it is to pique their interest and get them excited to further read on a topic.
Along these same lines, the curse of knowledge was continually scheming with imposter syndrome – teasing me to change my slides at the last minute. Fight hard against this – you'll always want to add tweaks, but the audience will not be able to tell the difference. Rather than "try to find a better image" – your time is better spent on honing your delivery. Worst case scenario – you forget where you are in the talk because you've changed the slides; the upside? Not much.
The best slide in the world is truly a blank screen. The audience is hanging on your every word. This is your time – your passion will be palpable and the audience will be there with you. The blank screen is gripping. Now is the time to drive home your point. Seeking feedback afterwards, this consistently came up as a positive point of the talk. This is what the audience remembers.
P3 allowed me to conquer a crushing fear – and I'm actually excited for potential future talks. Developing a presentation in this manner, while more work, is more fun, and giving it is even moreso. It is incredibly rewarding to have the audience engage you afterwards.
Ross, thank you so much for talking me off the ledge more than once, and for giving me a blue print to take the plunge. Thank you to everyone on Twitter, on the blogs, and at SMACCdub – you've all been an inspiration, whether you knew it or not. To anyone reading this, please, face your fears knowing you are in great hands with P3– because you never know who you may inspire to do great things.