Listing facts is the basis of most presentations. It is not effective teaching. The education value of such a presentation is very small, possibly even negative. As the audience read along they are not learning, merely processing. Presentations fail not because of lack of effort on the part of the presenter but of simple psychological principles. This is The Matrix concept. It strikes at the very heart of the majority of "education" delivered worldwide. It does not work.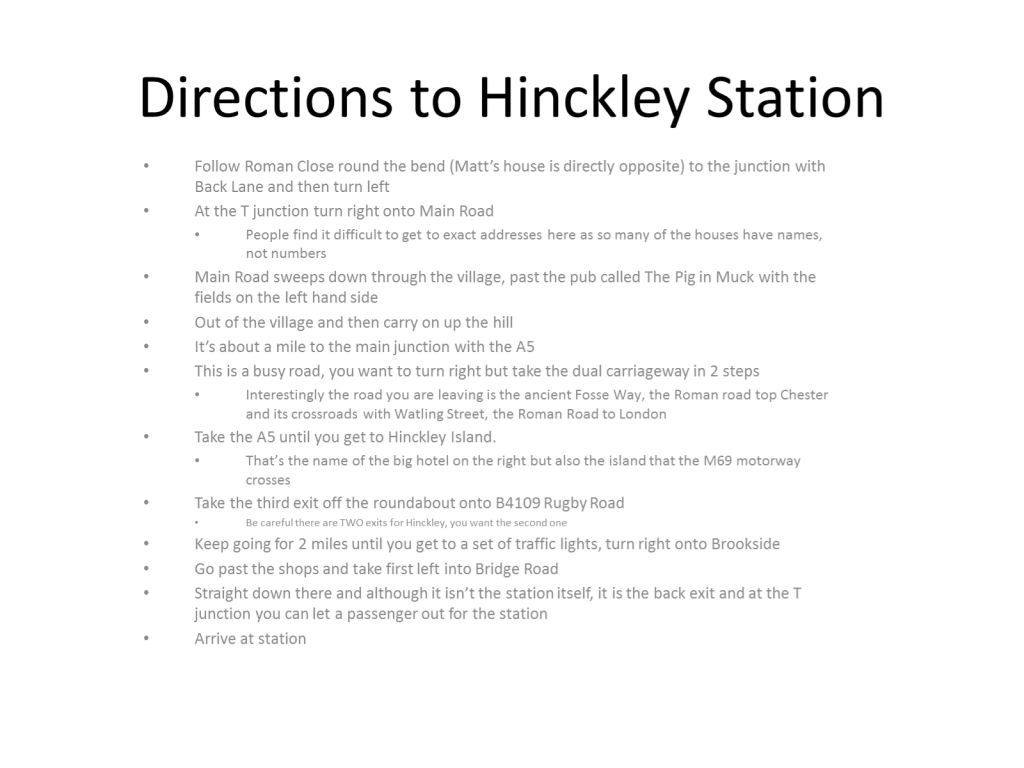 How might one improve and not simply listing facts? Clearly the individual steps in this slide are essential, otherwise, the audience will not reach their destination. Most of us who have ever become lost and asked directions would struggle if the person we asked gave us such a download of information. It is unclear why we then believe it would work in a presentation?  To cut the information to stark facts would be challenging, uninteresting and quickly forgotten. Consequently, extraneous information is added to increase interest, such as on the Roman roads. The problem here is that the capacity for retention may be filled with the unnecessary and not the necessary. Most physicians are aware of the effects of the sting of the Trinidad Scorpion but cannot remember the main causes of pancreatitis. It is naive, if almost universal, to believe that simply because a topic has been "delivered" by a recited presentation that it has been retained, in totality, by every member of the audience. Our experience, whether trying to keep a list of directions or the detail delivered in a lecture is that the information is not retained.
Rather than make the old method of listing facts work better by illustrating it better, we actually need a completely different approach to constructing a presentation, the difference between teaching and learning. The audience also needs to change their attitude to learning. Being immersed in information is no more teaching than simply being in France teaches one to speak the language. One should consider whether a presentation is, in fact, the best means of delivering such information; a document would be much more efficient and valuable. If a presentation is still required on a topic that is complex, one should re-consider the aim. It is foolishness to attempt to "cover" the topic by listing facts. Rather than cover a topic it is more to consider a single, relevant message that will encourage deeper investigation of the topic, or a challenge within the topic or a reflective review. The added support of material to download as a handout facilitates concentration on a more effective presentation. This is the role of the presenter to find a better way than simply listing facts. Rather than listing the directions, one might teach the audience to use Google Maps?