A great presentation requires effective delivery; the best way to start is not *taps microphone and asking, "Is this thing on?" Speak normally, you will be heard throughout the room if effective amplification has been chosen.
There are three basic types of microphones- lavalier (lapel or headset), handheld and fixed. Each has its own purpose and consequently limitations. Many presenters feel they have no input into the choice, but actually, arriving early and speaking to the AV/IT support about your requirements will frequently be of benefit to all. Choose the microphone that offers the best delivery.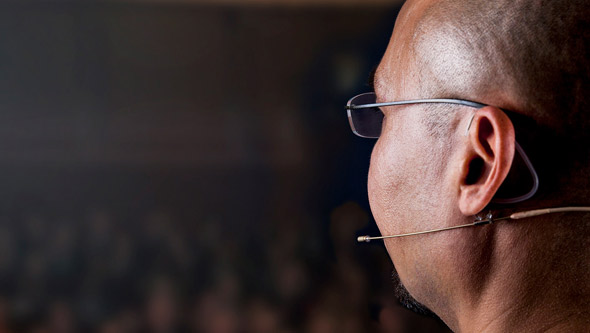 The best choice is a lavalier, radio microphone either as a lapel or headset. This is small receiver, attached by cable, to a palm sized device that broadcasts to the main amplifier. These devices offer entirely unlimited movement around a stage and within a room. Both hands are free. Once correctly positioned there should be no dropout of voice and audio quality is consistent. These are the device of choice.
The AV/IT staff at an event are experts in the setup and positioning of these devices. Clip on devices, despite their name, should not be word on the lapel but on the clothes somewhere just below the sternal notch. This allows for head movement but maintains excellent pick up. The headset is worn like a pair of spectacles over the ears and a tiny boom positions the microphone very close to the mouth. It is essential that these positions, once set and tested, are maintained, despite movement, discomfort, anxiousness etc. The set box is best positioned on a belt loop or in a pocket. The connecting cable is best "out of the way" either within clothes or under a jacket. Consider all of these issues when planning the outfit for the day.
Issues to be aware of *taps microphone are numerous. The device will usually be turned on but muted by the AV staff until the presenter takes centre stage. Thus private conversations are not broadcast but may be audible to the sound desk. This will not happen. Do not press any buttons after being set up, seriously. It only leads to problems. Be aware that movement around the microphone will also be amplified, this includes dangling earings, spectacle arms, long hair, bushy beards and the like.
Fixed microphones on a podium or stand are exceptionally limiting. To be heard one must speak directly into the device often from fairly close proximity. Turning the head even minimally during delivery may cause loss of sound. This will affect any body movement and principally any turning of the head to look in any other direction than directly at the microphone. My best advice is to ask to use another device. And ensure that any fixed mikes are switched off.
Hand held microphones require to be kept close to the mouth for best effect. They become heavy during a presentation and if a remote control is used in addition, mean that the presenter is unable to express themselves with hand gestures and will feel very constrained. This may be confounded if the device requires a cable. All of these limitations should be considered. My best advice is to ask to use another device.
Any device used *taps microphone, is designed to be easy to use. Speak normally. The AV/IT will see you right. And remember to thank them afterwards.
Is this on???